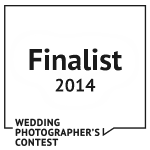 Hello, Milda!
It feels like we started the Wedding Photographers' Contest at mywed.com just a week ago.

Three months passed so fast!

 And we are so happy that you joined us and shared your beautiful photos with the world.
It was a hard competition. So many great photographers.
And you made it to the short list!

This is a big deal, because 2600 photographers competed with you!
How does it feel being one of the best wedding photographers in the world? 🙂

Eric Yang
Wedding Photographers Contest Executive
mywed.com | facebook.com/mywedcom